Matt Thoroman is a certified Radon Measurement Provider through the National Environmental Health Association / National Radon Proficiency Program or NEHA/NRPP. Since there is no federal, state regulation, or licensing in Georgia, it is very important that whomever is testing for radon be held to a high standard.
The NEHA/NRPP is one of only two accredited organizations for Radon Measurement Providers. Not only do I have the best and most accurate Radon testing equipment, but being certified through NEHA/NRPP, I also have to follow strict EPA radon testing procedures and protocols. We have our equipment calibrated every year and performance tested every two years.
ESA Environmental Solutions Association

Environmental Solutions Association (ESA) is the nation's premier Indoor Air Quality training organization. ESA provides industry professionals with the training and education necessary to confront the environmental and safety issues faced by todays property owners. Our training and education courses include Mold Inspection Training, Radon Training for Inspection and Testing, and Indoor Air Quality Training for Inspection and Testing, VOC and Bacteria Testing and other Indoor Air Quality issues that are of current concern to the property owner and commercial structures as defined by the Environmental Protection Agency.
interNACHI National Association Certified Home Inspectors

The International Association of Certified Home Inspectors (InterNACHI) is the world's largest, non-profit inspection association. Our home buying clients enjoy the professionalism only InterNACHI Certified Inspectors can provide. Our inspectors have all successfully passed InterNACHI's Inspector Examination, taken a Standards of Practice Quiz, completed a Code of Ethics Course, adhere to Standards of Practice, abide by a Code of Ethics, attend required continuing education courses, and are InterNACHI Certified.
NEHA/NRPP National Environmental Health Association/ National Radon Proficiency Program

The NEHA National Radon Proficiency Program is the leading certification program for radon professionals in North America. We're pleased to note that our program was officially deemed equivalent to the USEPA's certification program in 2001. Since then, through the professional efforts of the National Environmental Health Association and the American Association of Radon Scientists and Technologists, and the independent oversight of both an independent Policy Advisory Board and Education Advisory Board, consisting of 16 public and private sector officials, educators, practitioners and well respected scientists, the NRRP program has grown into the largest body of radon professionals anywhere in the world.
Individuals and laboratories holding NEHA-NRPP certification have not only met the requirements set forth by the original EPA program, but we are constantly looking for ways to raise the standards of professionalism. The NEHA-NRPP logo carries both the tradition and commitment of the National Environmental Health Association and the responsibility to full compliance with national standards and regulations
Georgia State Contractors License

The Georgia General Assembly created the State Licensing Board for Residential and General Contractors in 2004 to regulate individuals engaged in construction contracting. Applicants for licensure must pass a two-part examination covering the license they are attempting to obtain, and business and law. The Board has the authority to adopt rules, set standards for licensure, adopt mandatory standards of professional conduct, and investigate and discipline unauthorized, negligent or incompetent practice.
Supra Key Lock Box Access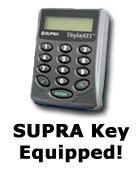 Supra is a leading global provider of key management solutions. Supra released its first lockbox system in 1955 for the real estate industry. The Supra real estate lockbox system is managed today by Real Estate Associations and Multiple Listing Services for real estate agents to efficiently market and show listed homes.
Matthew Thoroman
Certified Radon Testing
NEHA/NRPP #10377RT S/A
Please feel free to click the NRPP link below to view my credentials.